Esteban Ocon's first-ever FORMULA 1 victory was backed well by Alonso's epic final lap drive
Alpine's Esteban Ocon has won the Hungarian Grand Prix 2021, beating Aston Martin's Sebastian Vettel, and bagging his first FORMULA 1 victory. Vettel settled down for the second spot and Hamilton finished third (in the most dramatic way possible). Ferrari's Carlos Sainz came fourth and Alpine's Fernando Alonso finished at P5. The Hungarian GP has handed over the championship lead to Hamilton, as the erstwhile leader, Red Bull's Max Verstappen could only finish 10th this time, after his car got damaged due to a contact in Lap 1.
Hungarian Grand Prix 2021: The Most Dramatic Race Of Recent Times
The year's Hungarian GP could be called the most dramatic of recent times. It could even be considered one of the most thrilling Hungarian GPs of all time. There were action and adrenaline throughout the race.
The race had had a wet start, owing to a decent downpour over the Hungaroring circuit. The track was wet and slippery, something which was underlined in a while when as many as six cars were involved in a crash at the opening turn, and five of them had to retire following the same.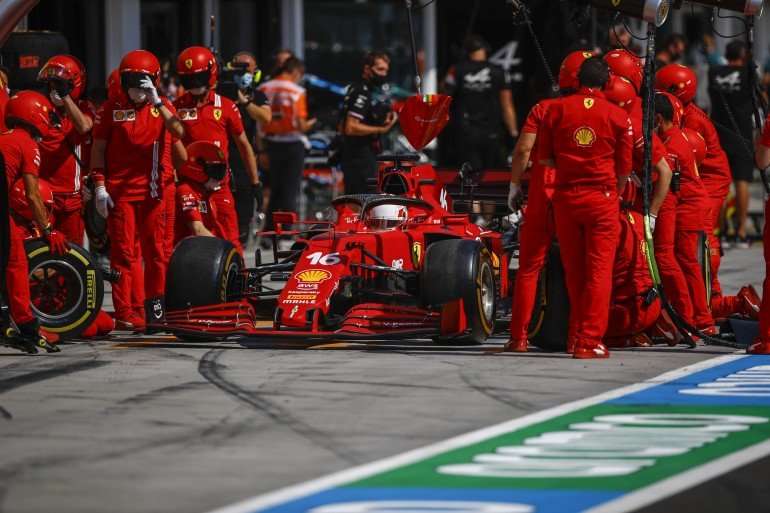 Mercedes' Bottas made a glitch in braking in Turn 1 and made contact with Norris, who then crashed into Verstappen and Sergio Perez. Further, Aston Martin's Lance Stroll made contact with Ferrari's Charles Leclerc. These crashes did handsome damage to the cars, throwing much debris on the track in the process. Thus, the race was soon red-flagged. Of all the drivers involved in the contact, just Verstappen could continue the race. Bottas was given a five-place grid drop for the upcoming Belgian GP for triggering the mishap.
Bumpy Start
Red Bull and Mercedes were having clear tyre strategies for Hungarian GP 2021. Polesitter Hamilton and Bottas at P2 were both planning to start the race with durable medium rubber, while Red Bull's Verstappen and Perez had plans of having less robust softs for their initial laps. However, the rains essentially meant a change of plans for the entire field. The drivers started with intermediate tyres, and more drama followed.
The drive till the opening turn was quite exciting. Hamilton took the lead, Norris sprinted from P6 to finally overtake Bottas. Trying to slow down as he Chased Norris into Turn 1, Bottas ended up locking his wheels and made serious contact with Verstappen and then dashed into Perez. Lance Stroll who was close behind, took his Aston Martin to the inside grass to avoid contact with Leclerc's Ferrari at Turn 1, spun around Ricciardo's McLaren, and finally crashed into Leclerc!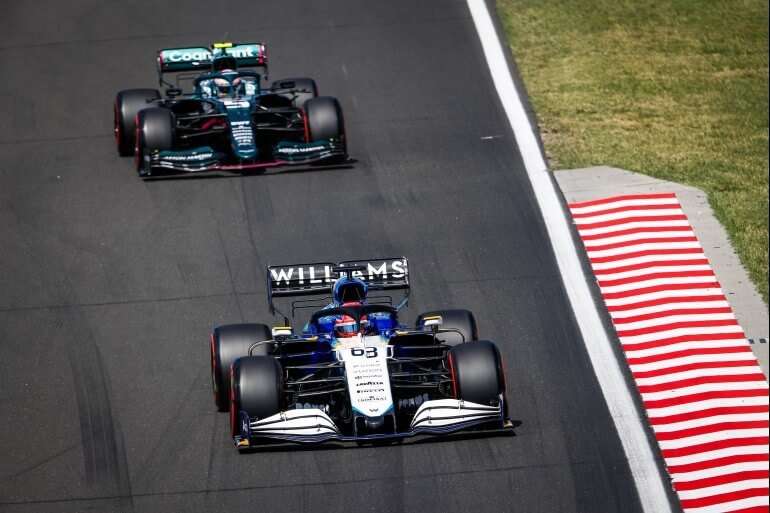 Hamilton's Mistake!
The race restarted after around 25 minutes from when it had been red-flagged. Verstappen could restart the race at P13, after having his car 'fixed'. Hamilton led the warm-up lap and was in fact the only driver who (re)started the race on the track. All the others joined from the pit, with new medium rubbers on. This decision to not change the tyres, as a matter of fact, doomed Mercedes in this race!
The rains were gone, track fairly dry, and Hamilton on intermediate tyres! The field charged after him aggressively. Vettel and Ocon were the most aggressive. At the end of lap 4, Hamilton had to pit for better tyres, and soon rejoined in the last (14th) position!
Hamilton's Recovery
Verstappen soon took his lead over Gasly. Hamilton was soon in P13. Mercedes decided to go with hard tyres in Lap 19, which saw Hamilton improve his rankings in no time. Verstappen too opted for hards a lap later, falling behind Hamilton by then. Hamilton rose to P7 by lap 28 and finally finished the race in P3. Verstappen, however, could only score a P10, owing to multiple technical and tactical glitches.
Ocon, Vettel, Hamilton And Alonso: The Final Drama!
The most thrilling battle was between Ocon and Vettel at P1 and P2. Vettel chased Ocon for quite some time. Ocon did a great job in keeping him at his tail at most times. Vettel on the other hand had to worry about a charging Hamilton behind him, even as he continued to chase Ocon. Hamilton was charging aggressively after his second pit stop. Sensing danger to his teammate, Fernando Alonso put on an equally aggressive defense, curbing Hamilton's chances of rising up in positions. Alonso indeed deserves praise for having fended off a Mercedes car with the Alpine that he drives!
The final lap saw Ocon drive into his maiden FORMULA 1 victory (and the first for Alpine as well), a frustrated Vettel settle down for P2, and Hamilton at the third spot, claiming his F1 lead. Ferrari's Sainz finished fourth and Alonso fifth. Verstappen did manage to score the 10th position with his 'damaged' Red Bull.
| | | |
| --- | --- | --- |
| Position | Driver | Team |
| 1 | Esteban Ocon | Alpine |
| 2 | Sebastian Vettel | Aston Martin |
| 3 | Lewis Hamilton | Mercedes |
| 4 | Carlos Sainz | Ferrari |
| 5 | Fernando Alonso | Alpine |
| 6 | Pierre Gasly | AlphaTauri |
| 7 | Yuki Tsunoda | AlphaTauri |
| 8 | Nicholas Latifi | Williams |
| 9 | George Russel | Williams |
| 10 | Max Verstappen | Red Bull Racing |
| 11 | Kimi Raikkonen | Alfa Romeo |
| 12 | Daniel Ricciardo | Mclaren |
| 13 | Mick Schumacher | Haas |
| 14 | Antonio Giovinazzi | Alfa Romeo |
| DNF | Nikita Mazepin | Haas |
| DNF | Lando Norris | Mclaren |
| DNF | Valtteri Bottas | Mercedes |
| DNF | Sergio Perez | Red Bull Racing |
| DNF | Charles Leclerc | Ferrari |
| DNF | Lance Stroll | Aston Martin |
Hungarian GP 2021 Result
Championship Standings: Mercedes Vs Red Bull Racing
After the Hungarian GP, Mercedes has the championship lead. Hamilton is now 6 points ahead of Verstappen and Mercedes as a team has a 10-point lead over Red Bull. The next race is the Belgian GP scheduled for August 29, 2021.
UPDATE: Vettel Disqualified From Hungarian GP, Hamilton In P2, See the revised rankings.
Image Source: Formula1.com, FIA Mediaroom
[Vroom Head India does not own the copyright of the images used]
Let's get social! Follow Vroom Head India On Facebook, Instagram, Pinterest, Whatsapp, and LinkedIn