The new system is currently being tested by Jaguar TCS Racing
Repurposing used EV batteries into energy storage units is part of the EV game and Jaguar has now rolled out its version of the same. The British manufacturer is much respected for its all-electric SUV crossover- the I Pace. Jaguar I Pace has been a hugely popular model globally since its market debut in 2018. It's thus been over 4 years in business for the production car and significantly more in existence for the prototype and engineering test mules. Jaguar has now used the second life batteries from these to build its own zero-emission energy storage unit.
Developed through a partnership with energy solutions expert Pramac, the new system is called Off Grid Battery Energy Storage System (ESS) and uses one-and-a-half second life Jaguar I Pace batteries, to store and deliver power in scenarios where the supply from the mains is questionable.
Courtesy of its I-Pace batteries, the Off Grid Battery Energy System (ESS) has a net capacity of 125 kWh. This is sufficient to charge a brand new I Pace or to power an average British household for a week! The batteries are paired to a bi-directional converter and a control management system, inside the ESS. The system effectively stores the energy harvested by its integrated solar panels.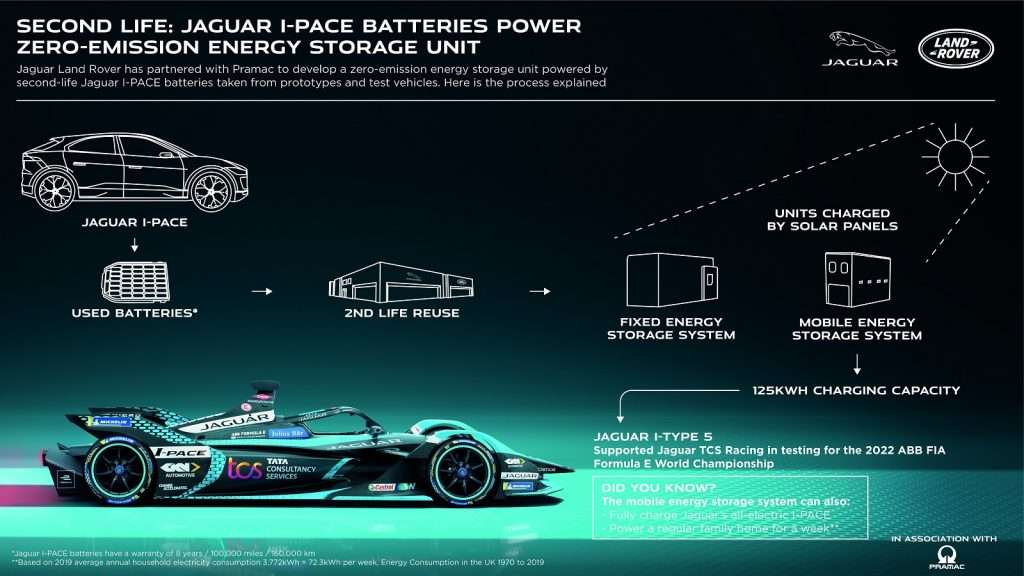 Jaguar TCS Racing is currently testing this unit for real-world efficiency and capability by using it to power the team's diagnostic equipment for analyzing Formula E cars, and to provide auxiliary power to the pit, at the testing sessions of 2022 FIA Formula E in Spain and UK. Jaguar's BEV prowess has always been backed well by its Formula E experience. A recent 'over the air' software update based on the same had given the new I Pace a good 20 kilometers of additional range! The 'Race-To-Road-To-Race' technology transfer is hoped to contribute greatly to the manufacturer's vision for the Gen 3 era.
ALSO READ: Jaguar To Supply Gen 3 Formula E Powertrain Tech To Envision Racing
Later in time, ESS would also be deployed at the Jaguar Land Rover Experience Centre in Johannesburg, South Africa, to compensate for the inconsistent power delivery from the mains. There are also plans of letting ESS open to commercial use soon.
Let's get social! Follow Vroom Head India On Google News, Koo, Twitter Instagram, Pinterest, Whatsapp, and LinkedIn
What Is Second Life Of EV Batteries?
'Second life' is a common usage in the EV space. As obvious from the name, it has to do with the Cycle Life of EV batteries. Most modern-day EVs use Lithium-ion battery packs as their powerhouses. The most important component of an EV, battery pack is also among the most expensive 'possible replacements' as well. To give you an idea, replacing the battery pack of some electric vehicles could cost you around 50-60 percent of the vehicles' original price. Answering this concern, most manufacturers offer warranties of up to 8 years/ 1.6 lakh kilometers on electric cars and 5-7 years on electric two-wheelers.
So how does a battery die? EV users, in the long run, would experience drops in performance and/or range offered. The charging speed (or rate of energy transfer) could also drop. Sounds like your cellphone huh? Well, these happen because the battery loses out on its ability to charge to a full and discharge effectively, with time and use. In other words, it gets its cycle life reduced, rendering it unfit for use on the EV.
Cycle Life is the number of charge-discharge cycles a battery can endure without losing on performance or efficiency. A modern day EV battery, like the one on the I-Pace for instance, would retain around 70 percent of its health after 5-7 years of use.
Second Life of the Lithium battery begins after it gets discarded from the EV. Courtesy of the leftovers in them, these can be refurbished and restructured into energy solutions or energy storage systems. EV batteries can even have third lives to milk out the last drops of juice left in them, after which they could be given for recycling. Effective second life battery strategies can thus ensure efficient recycling and a secure supply of rare materials in the 'energy' space.
Second life battery supply and related applications host immense business opportunities and is expected to boom to a $30 billion industry by 2030.