Occupants blame 'jammed brakes' for the incident…
Image Copyright: Vroom Head
Mahindra Thar is a lifestyle vehicle with a stellar reputation in India. The SUV is much loved for its capabilities, specification, and liveable nature (a notable departure from its predecessor). This Mahindra off-roader is also admired for the immense safety it offers. Equipped with all modern-day safety tech like ABS, EBD, electronic brake assist, dual airbags and ISOFIX seat mounts, the new Thar was awarded a 4-star GNCAP safety rating soon after its launch.
We've seen several crashes/ incidents involving the new Thar. We've seen it ram into trucks or getting sandwiched between them, and even head-ons and topples. Here's what could possibly be the newest in the line. This Mahindra Thar from Kerala- apparently the top-spec diesel automatic variant- recently got rear-ended by a bus! In what could have possibly been a low-speed crash, the Mahindra seems to have taken the impact without any fuss. The solid build is to be thanked here.
ALSO READ: Four Different Grille Designs For The Mahindra Thar 2020!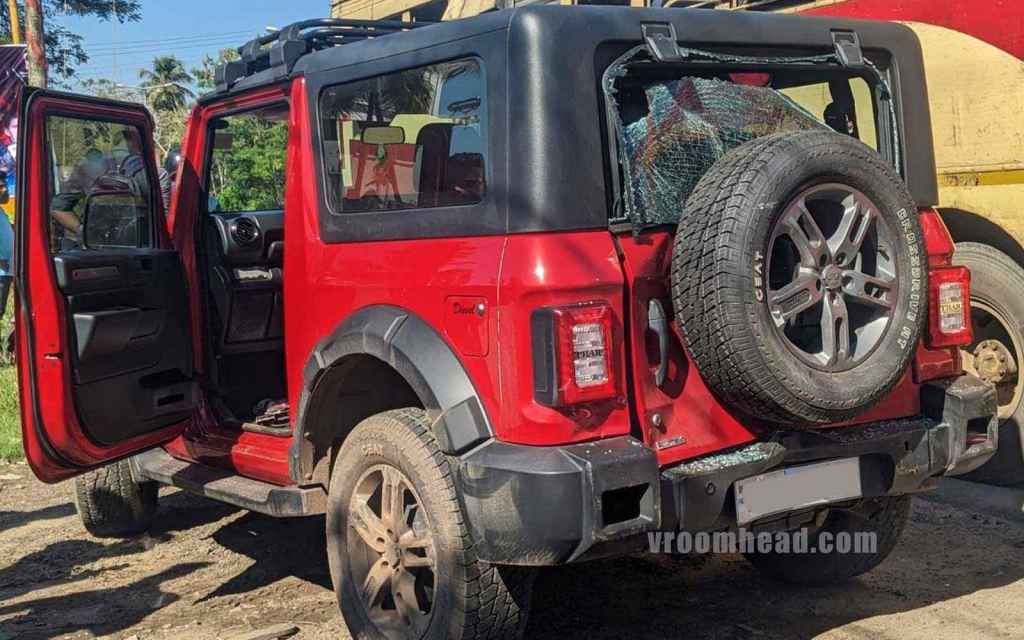 The rear door, rear bumpers (possibly the beam behind it too) and the rear windshield appear to have taken the hit. The hard top, however, seems to be intact and so are the spare wheel and tail lamps. However, the reflectors on the rear bumper have been damaged badly.
The occupants (two in number) stayed clear of the crash and its impact. Both the driver and the co-driver walked away unhurt- and later confessed the same to us. In a conversation that followed, we were told that the crash was caused by a 'jamming of the brakes'- which could be a bit too hard to believe on a well-maintained new-gen Thar.
The new Thar, as a package, is quite exciting. It comes with a set of interesting mechanicals. There are two engines on offer- a 2.0L turbocharged petrol (mStallion) and a 2.2L diesel (mHawk) mated to manual and automatic transmissions. The vehicle also features proper 4X4 tech.
ALSO READ: 2022 Mahindra Bolero Maxx Pickup Review: Everything You Should Be Knowing!
'