We've been rigorously testing the Streetwind V2 jacket…
Royal Enfield currently has an extensive array of top-quality riding gear. The manufacturer, in fact, focuses as strongly on the apparel and gear business as it does on the motorcycle vertical. RE's motorcycling gear stand out for the unmatched quality they deliver for a rather affordable price. The two-wheeler major has partnered with many leading riding gear OEMs on these.
Royal Enfield has an extensive array of riding jackets on sale in India. RE Streetwind V2 mesh riding jacket offers a sweet value proposition, by being easy on your pocket even while delivering top-class experience while on the roll. We have been testing this riding jacket extensively for some time. In fact, we have used it for over 5000 kilometres and in varying environmental and road conditions.
Read ahead to know our detailed thoughts about Royal Enfield Streetwind V2. However, if you'd like to skip the lecture and purchase straight, here is the quick link for the same…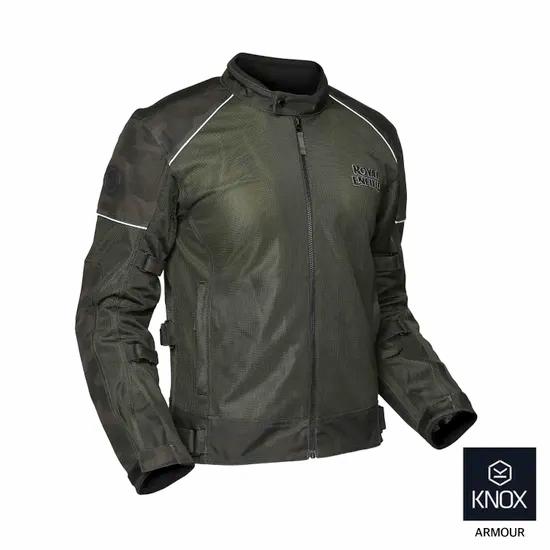 Product: Royal Enfield Streetwind V2 Mesh riding jacket
Price: ₹5,250
Colour: Olive Camo
Table of Contents
Royal Enfield Streetwind V2 Mesh Riding Jacket Specifications
Model name
Royal Enfield Streetwind V2
Colour
Olive Camo (Tested)
Other colours available: Brown, Grey, Red, Black
Size
L (Tested)
Material
Knox Flexiform Level 1 armour for shoulder and elbow.
Perforated EVA foam at the back
Fit Type
Normal
Pockets
Two zipped (YKK) external and two internal pockets
Armour
Knox Flexiform Level 1 armours for shoulder and elbow.
Perforated EVA foam at the back
Picking the perfect jacket size is of utmost importance in ensuring optimum rider safety. The Streetwind v2 jacket is available in various sizes- S, M, L, XL, 2XL and 3XL. You can use the below size chart to find the perfect jacket size for your body.
Design
Royal Enfield is great at creating visually appealing riding gear, and the Streetwind V2 jacket is no different. It looks cool and feels comfortable to wear. The overall design and materials used feel nice. The jacket is available in a range of colours- Red, Black, Brown, Grey and the special Olive Camo that we sampled. The Olive Camo demands a price premium over the other colourways but is totally worth it.
The jacket also has a handful of Royal Enfield badges and logos- on the left chest and right shoulder. To improve safety during night rides, there's reflective piping around the shoulders and a reflective pinstripe on the back.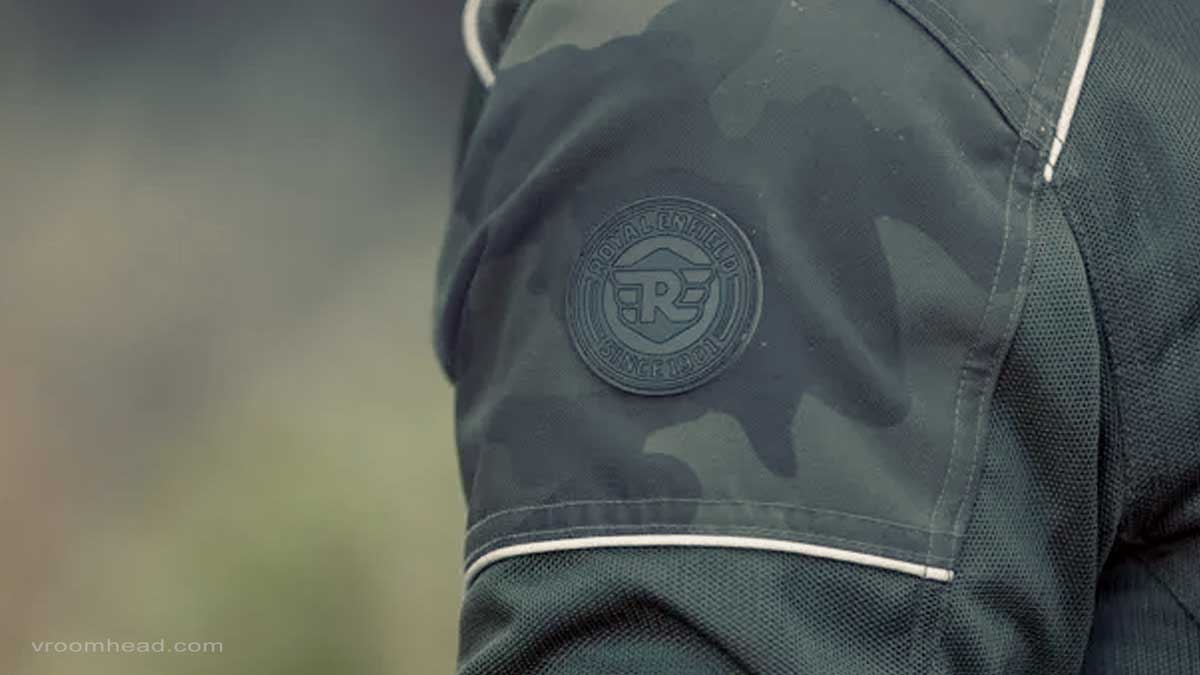 ALSO READ: 5 Best Dash Cameras To Buy In India- AUG 2023
Fit, Armour And Protection
Royal Enfield Streetwind V2 jacket feels very light. The stitch quality is top-notch and the entire jacket is extremely breathable, thanks to its mesh surfaces. It also gets a soft cushion collar, multiple belt loops, and adjustable straps for cuffs, waist, biceps, and forearms.
Streetwind V2 is not just a fancy-looking apparel or 'gear for namesake'. It comes with proper armour for effective rider protection. Royal Enfield has partnered with Knox for developing this gear. Streetwind V2 offers CE Level 1 protection to the rider. A foam insert is given as a back protector, by default. But, you can replace these with D30 protectors, if you wish to.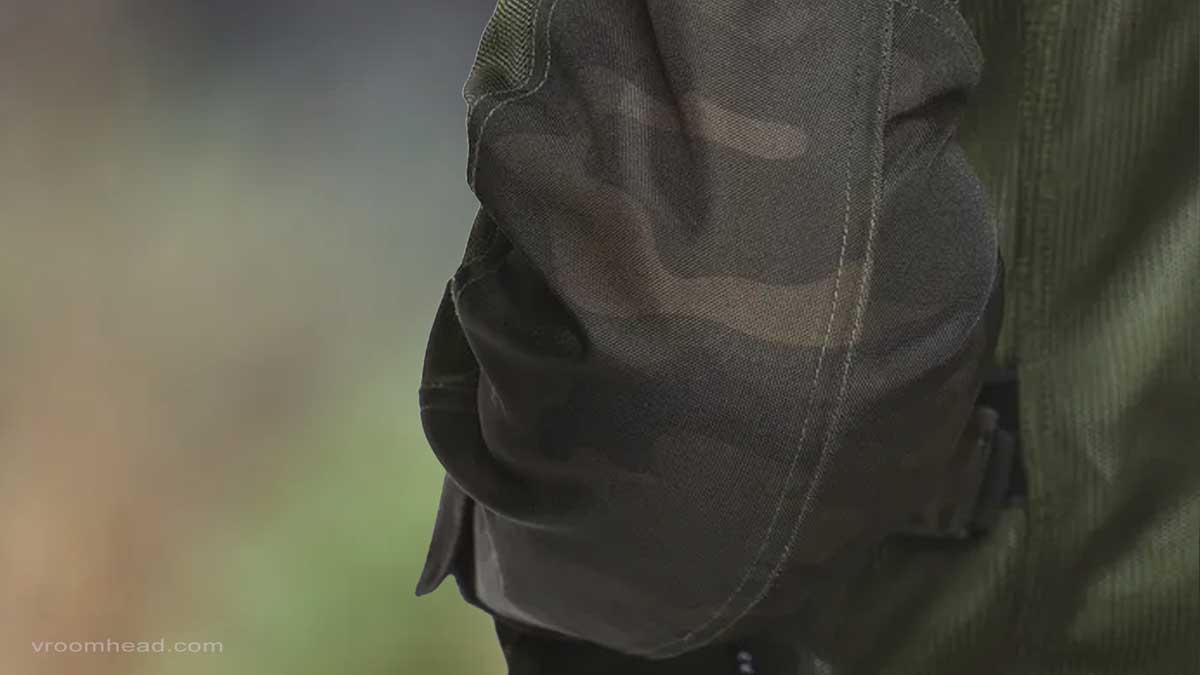 Ownership Impressions
We covered over 5000 km with the Streetwind V2, over a couple of months. We have used it in various road and traffic conditions, and in varying climates. We rode in the rains, in the scorching heat and in intense humid weather. The following are our impressions.
'
It feels very comfortable to use in the hot and humid weather. The ventilation feels nice.
The overall weight feels surprisingly low, considering what's being offered.
Easy to clean, and removing and installing the protection pads is fairly easy as well.
It can take a decent amount of rain rides comfortably.
The pockets- both the internal ones and the external ones with YKK zippers- offer great convenience.
Adjustable straps are very useful, and the jacket in general, suits most body sizes, except super heavy weights.
Royal Enfield Streetwind V2 Pros And Cons
Here are the good things about RE Streetwind V2 jacket:
Extremely lightweight
Easy and comfortable to wear
The jacket is extremely breathable. Comfortable to wear during summer.
Strict check on Royal Enfield branding and badges on the product.
The Olive Camo colourway looks great.
Below are the disadvantages/ things that could have been improved:
Streetwind V2 jacket does not get chest pockets. Some other products in comparable price brackets offer breast pockets.
No effective back protection offered.
Neck and elbows get level 1 protection. Level 2 would have been more appreciated.
Excessive use of mesh could give you more road rashes in the event of a crash.
ALSO READ: 5 Royal Enfield OG Gears To Gift Your Biker Mom On This Mother's Day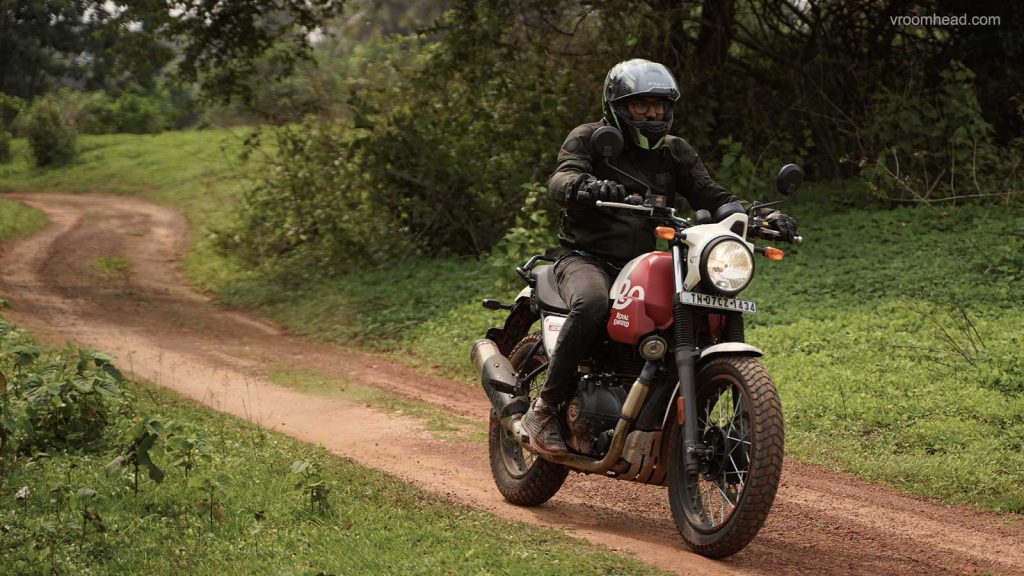 Verdict
As passionate riders ourselves, we understand the significance of quality gear in ensuring rider safety, and the Streetwind V2 is one of the best riding jackets under 5000, something that we would highly recommend as a VFM buy…
---
Affiliate Disclosure: Vroom Head India participates in various affiliate marketing programs, including the Amazon Services LLC Associates Program, and other affiliate advertising programs. As an affiliate, we may earn a commission from qualifying purchases made through links on our website. We appreciate your support and want to assure you that we only promote products and services that we believe in and would recommend to others.
---
Royal Enfield Streetwind V2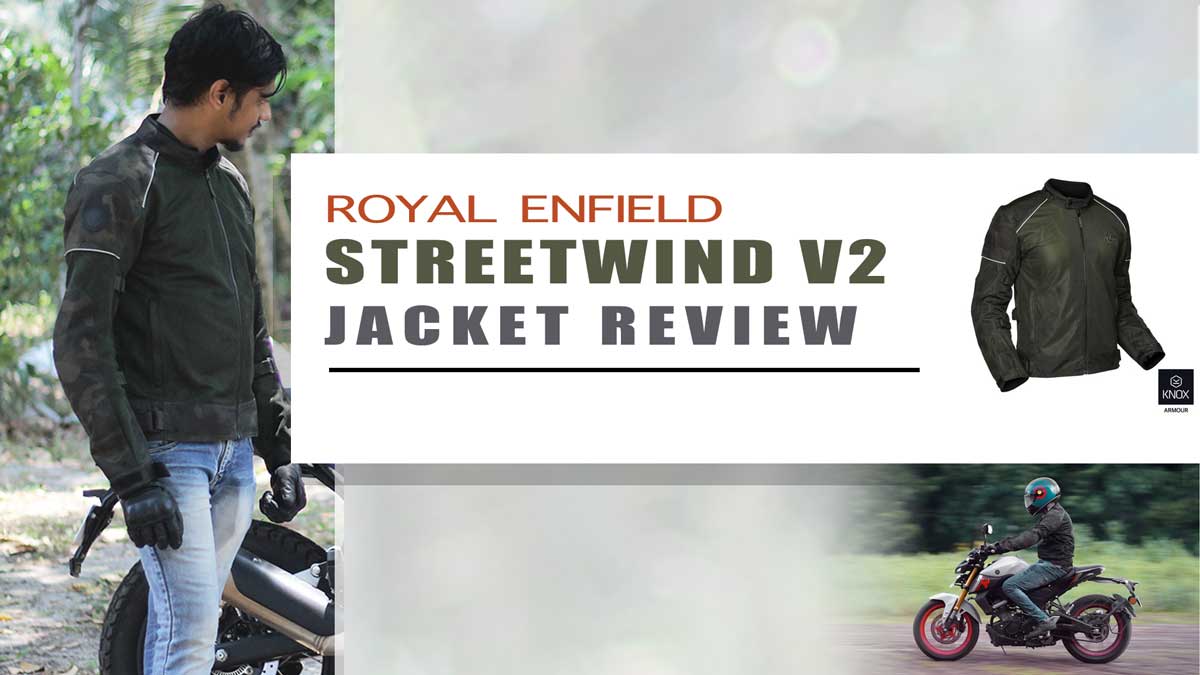 Created in collaboration with Knox. It is extremely lightweight and good to wear in summer. Available in 5 colours including Olive Camo.
Product Brand: Royal Enfield
Pros
Olive Camo colourway looks great.
Extremely lightweight
Extremely breathable and comfortable to wear during summer.
Cons
Royal Enfield Streetwind V2 does not get chest pockets.
Limited back protection offered.
Neck and elbows get just level 1 protection.