The new Dealer Operations Restart Guideline from Toyota would benefit both the dealers and customers alike…
As part of its imminent dealer operations restart efforts, Toyota Kirloskar Motor has issued a detailed 'Dealer operations Restart Guideline' which would be of use to both the dealers and customers alike. The guideline envisions safer and cleaner Toyota dealerships for tomorrow. It urges the employees and other stakeholders to follow all key safety and hygiene practices necessary, even after they restart the operations once the lockdown is lifted.
The manual instructs the facility and staff to maintain all safety practices at customer touchpoints, inside the dealerships and in the premises. It also advises minimizing the use of air conditioning inside the showrooms. The safety measures undertaken at the dealerships would all be transparent, ie, any customer could be provided with the photo and video evidence of the same upon need. The entire staff will be given facemasks and the exchange of physical documents would be minimized. Even during the test drives, the customers would be provided with gloves and masks, and the accompanying staff will occupy the rear seat instead of the front, in compliance with the latest social distancing guidelines.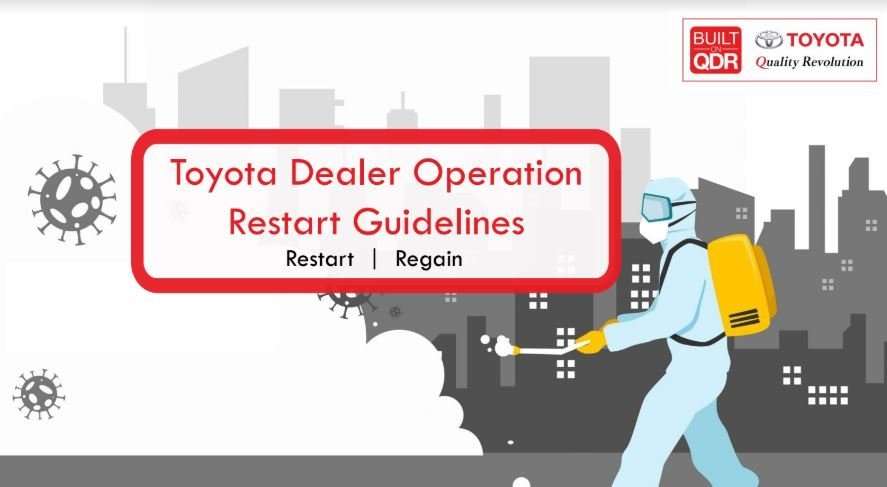 Various safety measures would be undertaken even with aftersales care. The staff would produce their temperature certificate to the customer during pickup, disinfect hands before receiving vehicle keys, and sanitize the steering and seats properly before dropping off the car. Transactions would be made digital as well. With so many preparations, Toyota India seems to be fit for handling the post COVID crisis well.
ALSO READ: Jaguar Land Rover To Gradually Resume Production From May 18!