The Jaguar I-Pace eTAXI service at Nürburgring Nordschleife will have professional drivers take passengers on epic rides around the world's most famous and demanding race circuit…
You and I know that the Jaguar I-Pace is one epic electric SUV to be in! It is fast, thrilling and clean ! No wonder it has been amassing such huge approbation from all over the world all this while. What is even more exciting is that you can now have a taste of this performance SUV the way it should be had, as the car maker has started a special RACE eTaxi service on the Nürburgring Nordschleife, with the Jaguar I pace!
Yes, you hear that right! You can now experience the I pace on the world's most challenging and 'fairly infamous' racing circuit! The eTaxi service would lend you a chance of being on a breathtaking ride, piloted by professional drivers, where the British Marque's all-electric performance SUV would show its true colors on Nürburgring's tarmac! The brutal, battery-powered acceleration and the grandiloquent agility of the first all-electric Jaguar SUV, can all be experienced to their fullest in this course.
The official clock time for the 'Jaguar I Pace 0-60 sprint' droops to as low as 4.8 seconds and that is absolutely phenomenal for an SUV of this kind. With a healthy 400 PS of power and 696 Nm of torque sprouting outta the twin electric motor setup mated to the 90 kWh Li-ion battery pack, this Jaguar SUV is indeed a benchmark in the world of electric performance. It is quite applauded for its razor-sharp handling as well. The best part of this, though, is that all this adrenaline surges come in, with emissions amounting to an absolute zilch!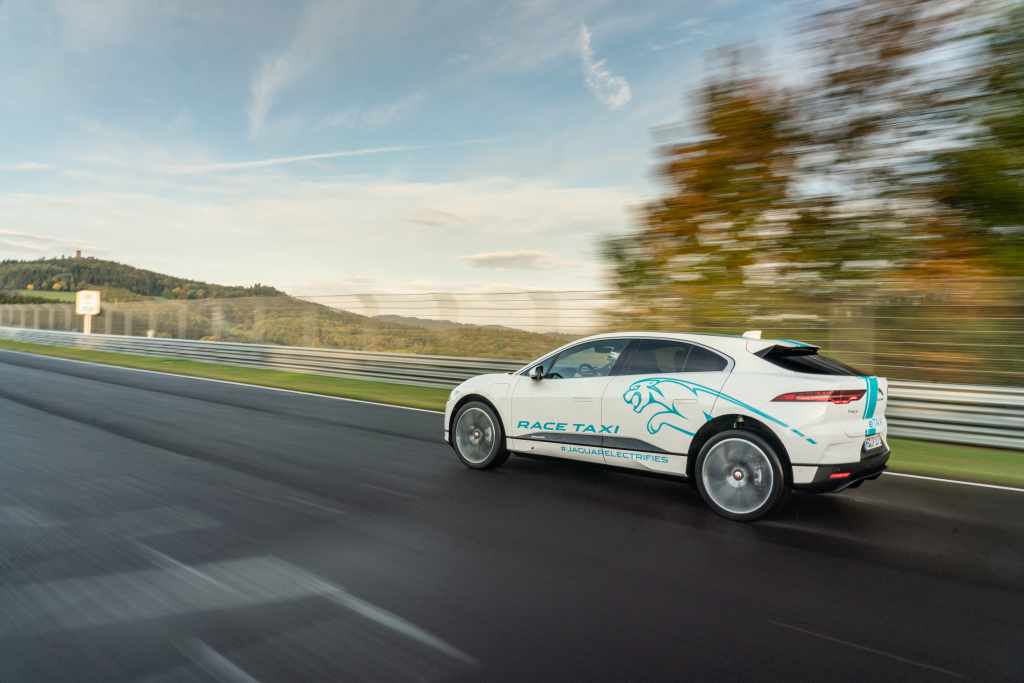 Jaguar I-pace is the first all electric RACE eTAXI at Nürburgring
The Nürburgring, if you are still unfamiliar, is one HUGE Hell for performance machines! 'Survive here, and it could thrive literally anywhere else'- this is pretty much the equation! The 20.8 km long circuit boasts of around 73 corners, which over the years, have seen many mad machines rising to victory and many others burning to ashes.
The track here, is so sensitive and complex that one could make it outta here unharmed, only if the vehicle he is in is that EPIC! ( No wonder it is often called the 'Green Hell') Thus, Nürburgring has over the years become one of the most favorite car testing destinations for carmakers as well.
The Jaguar I pace performance SUV would undoubtedly feel at home here, at all times and in all weathers! The 'no short of scalpel' handling and the efficient all wheel drive system of the SUV would let it tear the Nordschleife tarmac like a pro for sure! And all you have to do to get your dose of this hair-raising ride is to keep $164 ready and wait for your turn to hop into an I Pace for a 10 minutes 'scary AF' run !
Wanna try? Head to and sign up here !
The I-Pace has amassed a plethora of awards and recognition globally ever since its debut in 2018. We had seen it being adorned with a bunch of internationally sought after titles including 2019 World Car of the Year, European Car of the Year and German Car of the Year, earlier this year! Taking into account the immense potential of this vehicle, we feel no wonder in this…
Jaguar I-pace is the first all-electric RACE eTAXI at Nürburgring
'
Why the Jaguar I-Pace RACE eTAXI now ?
Well, first and foremost, it is part of the car maker's electrification strategy, as this would let people from all over the world get a first hand experience of Jaguar's electric genes. Secondly, it must be their way of teasing the Panasonic Jaguar Racing Team prepping themselves up for the upcoming Formula E season.
This initiative should reveal the brand's expertise in electric performance to those few who are still ignorant of it. Also, one could take this Taxiing as the forerunner of the next season of the I-Pace eTROPHY, the inaugural season of which had attracted much attention back then.
The upcoming season of the first all electric single make racing event is hoped to feature more advanced close-to-production Jaguar I-Pace racers! So yea, this indeed is a mere teaser …
The 600 HP BMW Vision M NEXT Looks As If Straight Out Of A Sci-Fi Movie And Is Tomorrow's Perfect Hybrid Driver's Car !