The Lamborghini SC20 combines sophisticated engineering, Italian craftsmanship and rad automotive design seamlessly with the endless punch of a V12
People at Sant'Agata Bolognese manufacturer's motorsport division have gone some extra miles to build the one-off Lamborghini SC20 roadster. It's the second time that Squadra-Corsa, the motorsport division of Lamborghini, is engineering a one-off model. The car is essentially built to meet the specific client's requirements, and involved is the process of engineering the SC20 from ground up.
The engineers at Squadra-Corsa have indeed done a marvelous job on this one-off machine. The body finished in Carbon Fibre was polished and smoothened to aid smoother airflow which ensures maximum performance and a comfy open-air driving even at higher speeds. According to Lamborghini, Diablo VT Roadster, Aventador J, Veneno Roadster and Concept S have all influenced the SC20 to bring out the best of the racing attitude.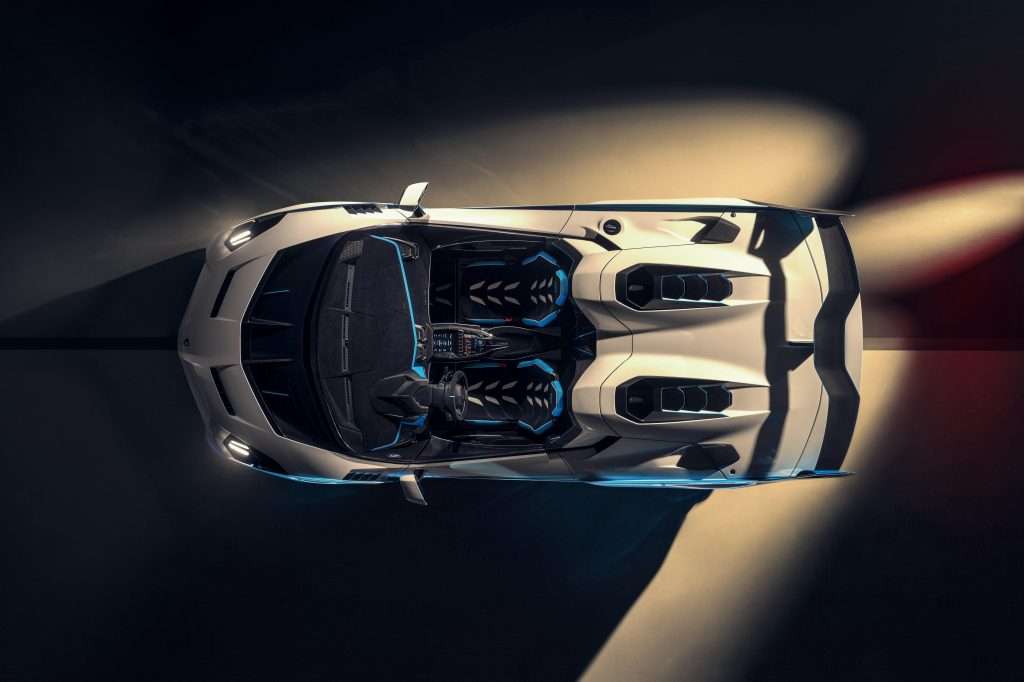 Also there are some bits inspired from the Huracan GT3 EVO, including the front splitter, framed by two fins and the air intakes on the front hood. The rear-end is crowned by a huge carbon fiber wing which can be set in three different positions – low, medium and high load according to the needs.
The SC20 is finished in Bianco Fu (white) shade, with the contrasting Blu Cepheus (blue) livery. The detail further extends to the interior where the same shade blends with Nero Cosmus (black) and Bianco Leda (white) finish. The significant amount of visible carbon fiber used for the dashboard cover, rear wall, door panels, center console, and steering wheel trim makes it a treat to the eyes. The seats are finished in Alcantara and leather while the door handles are machined from solid aluminium.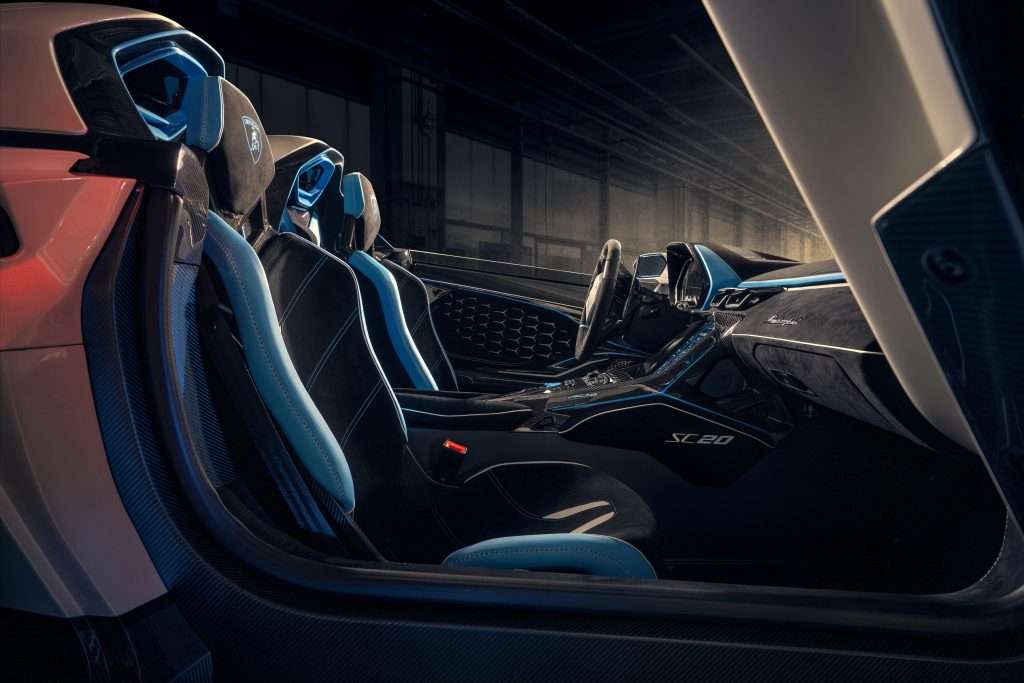 The SC 20 is powered by Lamborghini's flagship V12, the 6.5L naturally aspirated screamer produces a peak power of 770 hp at 8500 rpm and a maximum torque of 720 Nm at 6750 rpm. The engine is mated to a 7-speed Independent Shifting Rod (ISR) gearbox which sends the power to all four wheels by the four-wheel drive system which gets a central electronic differential as well. The car sits on Pirelli PZero Corsa rubbers mounted on single-nut aluminium rims, 20 inches and 21 inches at the front and back respectively.
ALSO READ: